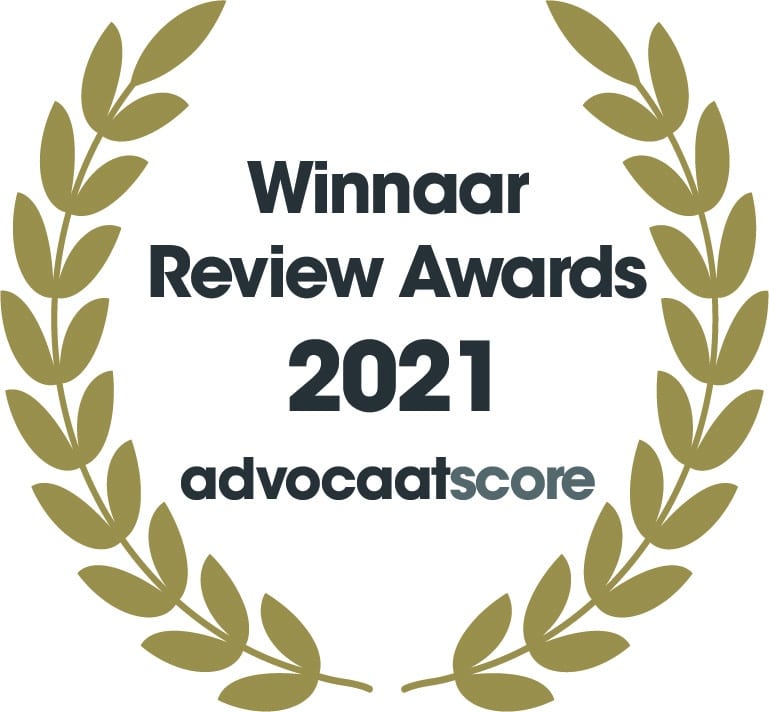 Wij zijn in 2021 én 2020 het beste advocatenkantoor van Nederland op het gebied van klanttevredenheid.
Kroes Advocaten is
gespecialiseerd
in Nederlands en Europees immigratierecht.
De reviews hieronder zijn van onze klanten. Deze reviews komen voort uit een doorlopend klanttevredenheidsonderzoek dat zorgvuldig en speciaal voor de advocatuur is samengesteld door Advocaatscore. Dit doorlopende klanttevredenheidsonderzoek sluit aan bij onze kernwaarden waarin wij streven naar voortreffelijkheid, samenwerking en integriteit. Wij werken aan het succes van onze klanten.
Daarom zijn wij ook transparant over de beoordeling van onze klanten over onze dienstverlening. De reviews hieronder zijn niet door ons aangepast.
Sheryl is very clear in communicating the options and steps to be taken.
It takes a lot of stress away to work with an experienced and approachable lawyer like Sheryl.
Exceptional Legal Service
I recently had the pleasure of working with Edward Van Kempen from Kroes Advocaten. From the first moment of our consultation, I could tell that Edward was truly dedicated to helping me with my matter. Thanks to the Edward's hard work and expertise, we were successful. I cannot express how grateful I am for Edward's help and guidance throughout this process. I would highly recommend Edward to anyone in need of assistance with immigration law. His professionalism, knowledge, and commitment to his clients are truly exceptional.
This is the second time I have relied on the excellent guidance of Kroes Advocaten and I am again very satisfied - I will not hesitate to reach out to them in the future if needed. I highly recommend them for their professionalism, experience, reliability and speed.
a clear, precise, very useful and personalized support
The advice and support we received for our migration administrative process really made a difference. The lawyer who followed our file showed a lot of availability to answer our doubts and questions. We felt supported throughout the different stages. It calmed us down and gave us a lot of clarity on what to expect. We highly recommend Kroes Advocaten.
Quick response, very professional advice, deep understanding of a customer's needs
Multiple positive experiences
A highly professional approach and not typical fast response time to customer inquiries. We have been working with this company for several years and have always had a positive experience.
Jelle has been great in providing the answer to my query. He replies within few hours after I contacted him, definitely if you need help reach out to Jelle and he will support you!
Inge helped me twice so far for the visa extension and the process was smooth.
Excellent service, pursued my case with real diligence leading to a success conclusion.
Working with Inge was a pleasure, and she really pursed my case for citizenship with real diligence and tenacity, ensuring that all possible avenues were explored. She took the lead on communication with the relevant authorities, which was very helpful. Overall I sencerely believe the success of my application for citizenship was due to work done by Inge, which exceeded my expectations. Without reservation I would recommend Inge and Kroes Advocaten.
We received a qualified and prompt legal service
We submitted our case close to the Christmas holiday and on a short-crucial appeal period. But, Irene has managed to help us promptly, and even in between holidays. I am very happy with her professionalism and accurate work in handling our case. We received a positive result from the immigration office.
Professional and experienced
Kroes advokaten have followed up immediately when we raised our immigration issue with them and prepared the appropriate documents to support our "bezwaarschrift" to the IND. They do what they tell and provide good advise too. Inge also supported us to the hearing and fortunately we have won this case which is of great impact to our employee and family. Welldone and I absolutely recommend them as specialists and experts!
Great experience and well organized communication. They guided the whole process with step-by-step information. Thanks a lot!
Knowledgeable, helpful, expert advice and service
Jelle helped me with my highly-skilled migrant visa and my 30% ruling application. Everything went off without a hitch, and he provided some useful advice with some other questions we had about moving to the Netherlands!
Great service with professionalism
I am equally impressed and grateful to Esther for her help and efficiency in resolving my application. All my expectations were exceeded. Thank you Esther.
Prompt responses and practical solutions
The team at Kroes Advocaten have consistently delivered for me and my employees ever since the first time we used their services. Our previous immigration provider had to end our relationship suddenly, and Kroes team was able to jump and pick up all of our work.... all cases were resolved successfully. We have been working together for some time now and I rely on their expertise without hesitation. I would highly recommend.
It was a relieved having the Dilara following-up on my process. If you are a busy person with not time to figure all the bureaucracy by yourself then I will strongly recommend to hire kroesadvocaten
excellent service and communication by professionals who know what they're doing!
Great experience. Well organized communication, professional expertise
Couldn't imagine such perfect service
I'm so grateful for helping and having you in this period of my life. All communication was clear, detailed and attentive. Thank you, Sander!
Justine was so helpful and professional! Such a smooth process! Excellent communication and assistance. With this kind of service, I would definitely recommend Kroes Advocaten.
Thanks to Mr.Sander, I succeeded to renew my visa only after short waiting time. 2years ago when I communicated with his assistant, there were some miscommunications and a bit difficult. But after Mr.Sander became my exclusive lawyer; it was simple and helpful. Mr.Sander is Dutch lawyer who is a bit more direct than Japanese lawyer, but more flexible. Asking his service is more economic after all than failing by myself.
Mr. Sander helps us a lot, he's so professional, accurate, very pleasant. He handled our case long time and everything was like he said. My husband and I were so lucky to had him as our lawyer.
Effective and Professional
I cannot describe how grateful i am to Sander. From day one he showed that he was ready to finish all my documentation about my visa and work permit as he done it. Thank you a lot Sander and i highly recommend Kroes Advocaten Immigration Lawyers.
Hulp nodig  van een expert advocaat?