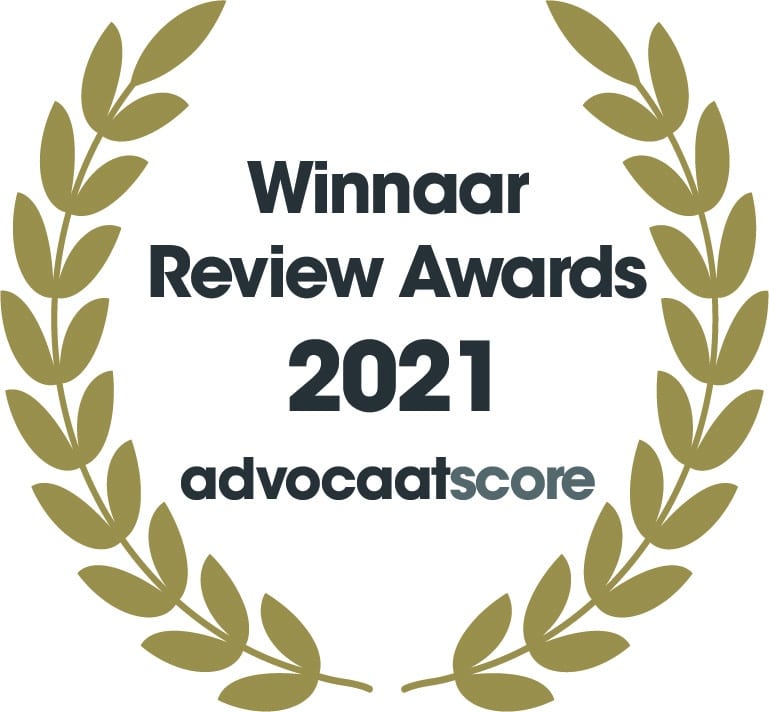 Wij zijn in 2021 én 2020 het beste advocatenkantoor van Nederland op het gebied van klanttevredenheid.
Kroes Advocaten is
gespecialiseerd
in Nederlands en Europees immigratierecht.
De reviews hieronder zijn van onze klanten. Deze reviews komen voort uit een doorlopend klanttevredenheidsonderzoek dat zorgvuldig en speciaal voor de advocatuur is samengesteld door Advocaatscore. Dit doorlopende klanttevredenheidsonderzoek sluit aan bij onze kernwaarden waarin wij streven naar voortreffelijkheid, samenwerking en integriteit. Wij werken aan het succes van onze klanten.
Daarom zijn wij ook transparant over de beoordeling van onze klanten over onze dienstverlening. De reviews hieronder zijn niet door ons aangepast.
Proactive, efficient, helpful - highly recommended!
Our experience with Kroes Advocaten, specifically Inge te Pas, was great. Inge was very helpful, proactive, and efficient, and guided us very well throughout the immigration process and explained every step. Everything was so well managed - from documents required to scheduling appointments -- that it made what would have been a stressful process very easy. I cannot recommend her enough!
I have had the pleasure to work with Sheryl, she was very professional, proactive and helpful. At every situation she gave me the right advice, and my citizenship application went very smoothly thanks to her efforts.
Profesional and efficient
I highly recommend them for immigration services. Sander and Sarah provided me a efficient support with all the processes.
Professional, knowledgeable team
I would definitely recommend Kroes Advocaten for immigration services. I was able to acquire my residence permit with no issues thanks to the quality service provided my the team. Thank you Sander for making the process smooth and efficient for me.
The available options based on our specific circumstances was very clear at the onset and the requirements to complete the process applicable to us fully explained.
Sander Groen is the person to trust.
Sander helped me with my residence permit as a self-employed person. He listened to my concerns, analyzed my situation, and gave solid advice. During the application process, he actively pushed the IND and ROV for further information and kept me updated, despite being ignored by the officers multiple times. I would say he is kind a workaholic. He replies to my emails outside office hours, even at 11PM. Although I don't encourage this kind of work ethic, it's great to know that you have someone behind you when you need them. I'd also like to thank Lesley Wang for all the help with my case.
Kroes Advocaten helped me with taken MVV Visa
Good day! I want to say thanks a lot to Irene van der Fluit! She is perfect specialist. Everything was fast, clear and professionally.
Very professional, efficient and great follow up
Irene was very efficient in finding a solution for our immigration issue. She was in communication with relevant parties in a fast and polite manner. The outcome was favorable and we where very pleased with the entire process. After the case was closed she followed up to make sure everything went according to plan. We would definitely recommend her.
Permanent residence permit application appeal
True to their word - they really are specialists!
I do not have enough words to fully describe my experience. So smooth. I had to keep up with them, they were that fast in scheduling appointments, doing all of my paperwork without the bare minimum requirement from me. All of my queries were addressed as soon as possible, without leaving any room for doubt in my mind. Their style of working is really something to learn from; quick, transparent, and smooth. I really really enjoyed working with you and I have to say: if it weren't for Mr. Sander's quick and efficient work it would have taken me a long time to get to Europe and settle as quickly as I have now with his help.
Permanent Residence Permit
I've applied for Permanent Residence Permit. My case was handled by Edward and Pieter. They have dealt with it so professionally and showed their experience by guiding me through the process. My case was approved within a few weeks after applying. I totaly recommend use their service.
Swift, professional, polite and SME on immigration related cases
Esther helped me and my partner in applying for a residence permit. The communication was always professional, polite, and very helpful. Next to this Esther could illustrate the process excellently and prepare us for the necessary steps. Clear subject matter experts and we would highly recommend the services at Kroes advocaten.
Fast, efficient, and customized service
When, shortly before traveling to the Netherlands, we were faced with an unexpected complication, Jelle Kroes provided solid advice and designed an efficient, custom-made solution that helped give us peace of mind.
Great and professional service
I worked with Esther and Sander and I cannot recommend them more. They provided us with a lot of relevant information and patiently answered all of our questions. They also made it very easy for us to prepare our case by providing a list of items needed and then took care of the rest. They are very professional and Esther was very easy and efficient to communicate with. Very happy we worked with them and they helped relieve a lot of stress for me. Thank you again for your service!!
Great help with option procedure
I am a former Dutch national, among those who lost their nationality in 1995. I moved to the Netherlands in order to regain my nationality, and used Kroes Advocaten to make the process as smooth as possible. Inge helped with my many questions, with contacting the municipality and most importantly with preparing the application pack itself, which no doubt made the process a lot easier when I went to city hall to apply. In contrast to other immigration lawyers I spoke to (at other firms), Igne had experience in this area which gave me the confidence to trust my business to her. It was clear that she had dealt with this type of case before. Igne was prompt, polite and helpful at all stages in answering questions. The firm itself seems well run and very professional. Fees were reasonable in comparison to others. Overall very happy to recommend.
Irene is an excellent lawyer. Her advice and communication reassured us throughout the process. We chose to do both our applications with Kroes Advocaten. Both applications were successful. We strongly recommend hiring Irene to aid in immigration cases.
Genuine, Caring and Very Efficient
I had a very good experience with Mr. Groen. From the start he gave me very fair and straight forward advices and answers on my case, which made me feel very secure and calm. He was always very proactive with my case and i don't have to remind him at all. Ultimately we won. Thank you very much.
It was so professional, fast and politely, thank you so much!
Kroes Advocaten was a great partner to have in my naturalization application.
My application for Dutch naturalization was handled with utmost professionalism. Despite various complexities in this process Kroes was able to guide me through this process that resulted in a successful approval for naturalization in a shorter time than we expected.
Sander Groen from Kroes Advocaten has incredible practice knowledge
Sander Groen is a trusted advisor who provided us with consistent, timely, and practical advice. Absolutely extensive, detailed, and responsive professional. He is warm and easy to work with but most importantly is his knowledge and practical approach to solving complex issues.
Great support, smooth process and timely follow up
The company assists me for residence permit extension. I fully appreciate and am tremendously grateful for the professional advices and timely responses at short notice. The whole application process - from start to finish - is handled very smoothly i.e. preparation of document, submitting the application, arrangement of appointment and collection of the visa.
Highly Recommended, Professional & Diligent
Working with the team from Kroes Advocaten to appeal a declined self-employed visa, I found them to be highly professional and exceptionally diligent in their approach to understanding every detail in the appeal, building evidence and a strong case against the decision that resulted in a positive outcome. This was and can be a concerning position for anyone to be in with regard to a visa status that provides a foundation of stability, the team were considerate of this and my experience was that they really stood in my corner to understand my situation, then presented it with such a thorough approach that enured my visa was extended. I would like to extend my gratitude to Hans and Esther and thank you for all your hard work in this successful appeal.
Hulp nodig  van een expert advocaat?